All rides and events require registration.
See the Member Events page to sign up for Club events.
---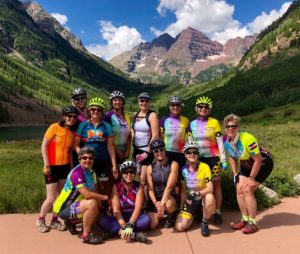 About the Club
The Venus Bike Club kicked off in Spring 2009 with the vision of creating a recreational, no-drop, cycling club that fosters an encouraging and supportive sisterhood. The Venus Bike Club is an ally to the LGBTQ community and welcomes all riders who identify as female or non-binary. The club is based in Boulder CO, but we have members riding with us from many parts of the state.
If you've ever thought: "I'm not sure I'd fit," "I joined before but never made it to a ride," or "What if my gear isn't good enough?" — join us! Whether you're new to cycling, want to improve your cycling skills, are trying to get in better shape, or just want to ride with a group of great women, this is the bike club for you. We are about having fun, feeling joy, and achieving "more," whatever that means for each of us. In the process, you'll find that you become a more confident, road-aware cyclist, who feels better on and off the bike.
Each year, we have about 200 members of all riding levels and abilities, joining together for weekend group rides, skill and bike maintenance clinics, as well as destination get-aways. We are a non-profit, volunteer-run organization. We couldn't do this if not for dedicated volunteers who help keep the Club rolling.
We also have a charitable focus; the Venus Bike Club supports Greenhouse Scholars through fundraising and is named after their annual women's cycling event, Venus de Miles.
Have questions about the Club? Please email us at contact@venusbikeclub.org.
---

Group Rides and More
Our weekend group rides are designed for the recreational rider. Group rides generally start in early April and alternate between Saturdays and Sundays until the end of the season in late September. As the season progresses, so does the mileage. Start times vary with the season and are also staggered, so those on the longer rides can get an earlier start on hot days. We meet for rides in the parking lot on the southwest corner of 30th St and Mapleton Ave next to the East Mapleton Ball Fields and behind Full Cycle & Colorado Multisport. Occasionally we might shake things up and schedule remote starting points to enjoy different routes.
We may have six to ten groups going out on any given weekend. We prefer to keep ride groups small with no more than eight riders of matching abilities and speeds. All ride groups have a lead and sweep and are no-drop.
Ride routes are designed according to a training plan to build endurance for 33-, 64-, and 100-mile events, such as the Venus de Miles in late August (click for photos from 2022 event), and the Buff Classic and Tour of the Moon in September. Our routes are created with safety, scenery, and variety in mind.
Short route: Early season, 12-15 miles at about 11-12 mph average pace. Over the season, mileage gradually increases to 30 miles, and we may add 12-13 mph and 13-14 mph groups to meet riders' needs.
Medium route: Early season, 20-30 miles. Over the season, these routes increase to about 50 miles, and the group may split into two or three pace groups at 12-13 mph, 13-14 mph, and 14+ mph average paces.
Long route: Early season, 30-40 miles with three pace groups, 12-13 mph, 13-14 mph, and a 14+ mph. Over the season, this route increases to about 60 miles.
All rides are by sign up only.
Got a question about the group rides? Please email us at contact@venusbikeclub.org.
Those looking for a more advanced cycling club may want to look into Boulder Divas Cycling or Petunia Mafia.
You may request a Try Out ride (April thru September) if you are still unsure whether the Club is for you.
---
Destination Rides
We offer several destination rides each year. For 2023, we've scheduled:
Trip details and sign-up information will be available on the Member Events page.
---
Clinics and Events
Some of the great benefits of a Venus Bike Club membership are access to fabulous clinics, social events, and special cycling-related events like demo days and shopping nights.
Our clinics are geared toward riding abilities from beginner to intermediate. Skills-based sessions such as fix-a-flat, bike maintenance, and climbing/descending are hands-on or on-bike, so you can really develop your skills. Informational sessions such as nutrition and hydration are offered online, so you can learn from the comfort of your own home.
Most clinics are free to active club members, but a few facilitated by professional coaches may be offered for a small discounted fee.
Our social events are a great way for our members to get to know each other outside of our weekend rides. Whether it's stand-up paddleboarding, a happy hour, or a dinner theater experience, club members keep the fun going all year round.
---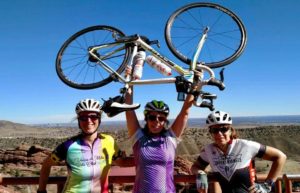 2023 Venus Membership Benefits*
VBC Membership Price Drop!
Starting on August 26, the day of the Venus de Miles ride, we are dropping the price of the Venus Bike Club membership for the rest of this year. New members pay reduced dues of only $30, which provide full access to all Venus Bike Club benefits for 2023 … AND discounted renewal rates starting in November for the 2024 season!
In addition to weekly club rides and member events, members also receive these benefits:
Access to the Club's RwGPS club account, with Premium features including turn-by-turn navigation and offline maps as well as stationary bike support. This benefit is valued at $80.
Small or no fee for any club clinics or coached training rides
Invitation to special sales/group discounts with local partners
Leads and sweeps earn $5 toward 2024 Club membership (maximum benefit is the price of membership.)
Additional Benefits From Our 2023 Sponsors:
Members: See information on our sponsors and how to redeem your benefits here.
* For paid membership through December 31, 2023. All benefits are subject to change at any time throughout the year.