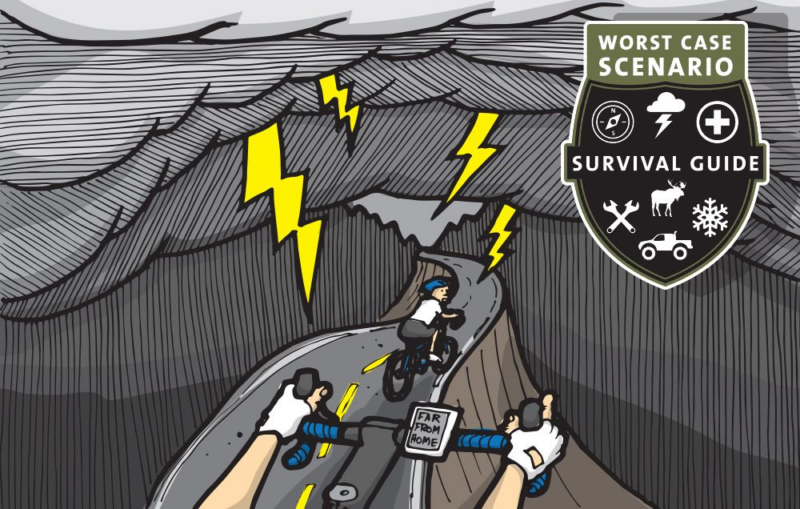 Mother Nature has certainly given us reason to pause this season. Wind, rain, lightning, and even snow! Obviously the Ride Committee will do its best to make pre-ride decisions to keep our members safe. 
In the event weather takes a turn while riders are on the road, we absolutely encourage the ride lead to stop the ride, check weather apps, evaluate the skies, and make a decision for the group to find shelter. These decisions are not always easy in the midst of fast-moving storms. Talk with the group, and review the options. Is the nearest shelter ahead of you on the route or did you pass the best shelter? Sometimes it's better to backtrack to find shelter than risk putting the group in a precarious situation by continuing on the route. Again, talk with the group.
And if you're looking for the best/fastest route back to the start of the ride and are unsure of the options, pull up Google maps — it's a great tool! Enter where you want to go, and change the travel mode to biking.
When weather is impending, sticking to the route is less important than your safety. Your lead and sweep should have the final decision on the matter; that is part of their role.
For added reference see our blog article: Thunderbolt and Lightning, Very Very Frightening.
Be safe. Be kind. Be patient. Work together. All leadership roles of the Venus Bike Club, including leads and sweeps, are volunteer. And we love our volunteers!
image courtesy of bicycling.com