Illuminating, Engaging, and Confidence-Building!
Five Venus members strengthened their group riding skills at the May 24th Beginning Group Riding Clinic with former Olympian and physical therapist Ann Trombley. Here's what two participants had to say about this valuable hands-on clinic: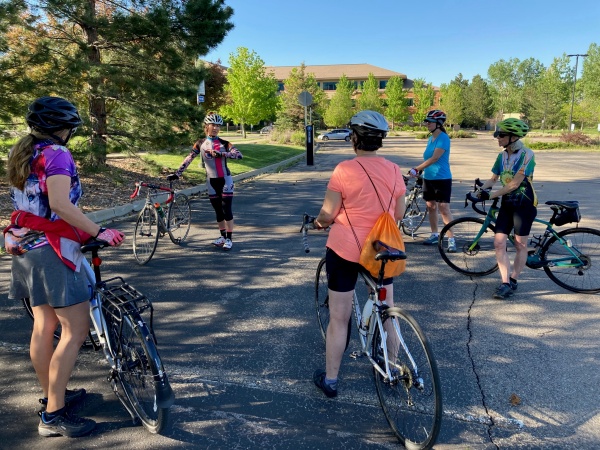 We were a group of five enthusiastic participants plus our instructor, Ann Trombley. Ann is a flexible and responsive teacher. She asked what each of us was interested in learning, then used an effective combination of explanation, demonstration, and feedback to lead us through those skills. We even had an impromptu lesson in chains and lube when a participant's chain came off at the beginning of the clinic!
We discussed assertive communication as well as seat and brake position. We practiced standing on the pedals, standing and shifting weight forward and back, riding with one hand, reaching for the water bottle, and riding effectively in a line.
Ann kept dropping little jewels of bike-riding wisdom each time she opened her mouth. We learned a ton, and we had fun! The only problem was that one hour was not nearly enough time. We ended up practicing and talking until almost 7pm!
~ Angie Holley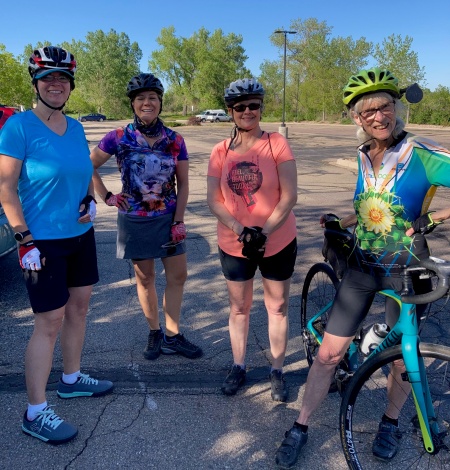 We had a small turnout of five, perfect for getting individual attention. Ann is an excellent teacher and an inspiration as a rider. We talked a little about basic mechanics (putting a dropped chain back on, cleaning and lubing the chain, seat comfort), then we practiced riding.
We made circles around the big parking lot, adjusting our weight and balance, practicing keeping eyes on the feet of the rider ahead, using voice and hand signals, and following at proper distance. Lots of enthusiasm and energy for the next class!
~ Barbara Retzlaff
Thanks Ann!