Last fall, Boulder County released its new and super-improved Boulder County Bike Map. The amazing woman behind this endeavor is none other than Venus Bike Club's own Alexandra Phillips, who also happens to be Bicycle Planner – Employee Transportation Coordinator in the Boulder County Community Planning & Permitting Department.
I confess to being a map geek, so I was really excited when I laid my hands on one of the newly printed maps. I asked Alexandra to meet up, so I could learn more about the overall project. I also spoke with her about upcoming Boulder County bike path and road improvements.
Alexandra shared that when she first started working for Boulder County, she told her manager she'd like to revise the existing bike map. His reply: Oh, that will only take a couple of days. Fast forward about four years, and the map is complete.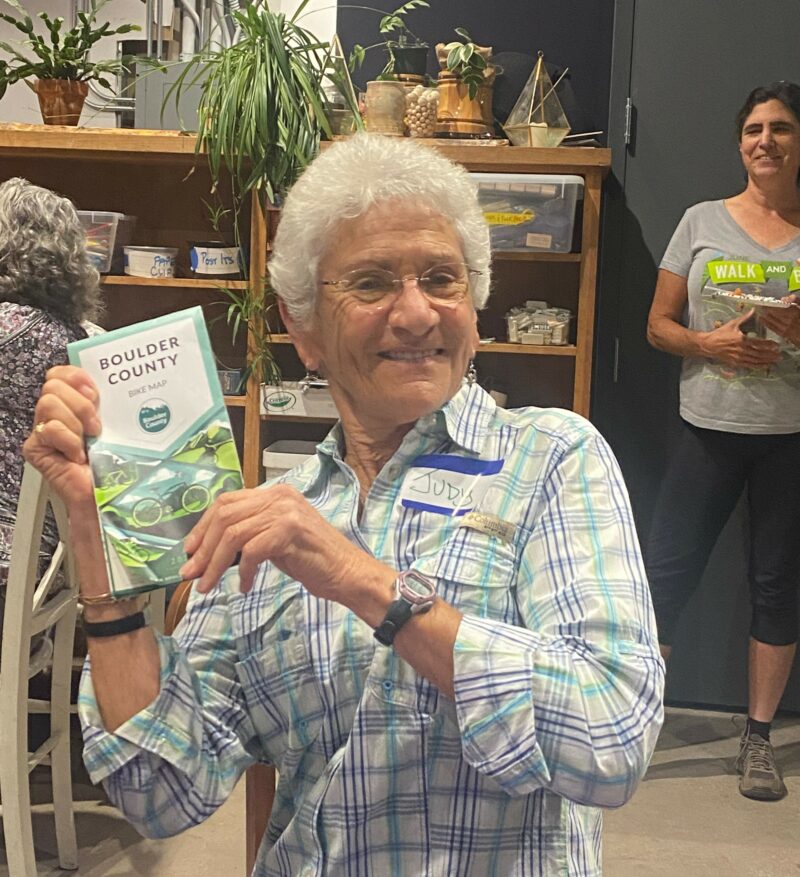 The previous map was created in 2012 and then repeatedly updated, to the point where existing digital files were virtually unusable (rasterized, for those of you who understand these things). Starting from the ground up, Alexandra worked with a contractor to employ geographic information systems (GIS) mapping technology. Much of the needed information was available in existing GIS files of roads and infrastructure, but the county, the cities within the county, the Colorado Department of Transportation, and various parks and recreation departments each had those files in separate databases. In some cases, the street names didn't match up. Sounds like a crazy jigsaw puzzle to me.
Complicating things further, the available GIS files didn't cover key features Alexandra wanted in the new map. Road shoulders, for example, weren't in the existing GIS maps. But people had given positive feedback about how the previous map showed which roads had shoulders or dedicated bike lanes. What to do? The project created a new database to display shoulders on county roads. For roads within city limits, those details had to be added manually! Need a pit stop while out on a ride? No existing GIS layer showed public restrooms, so they also had to be added. Going forward, a new challenge will be keeping track of and maintaining all the files involved in the project.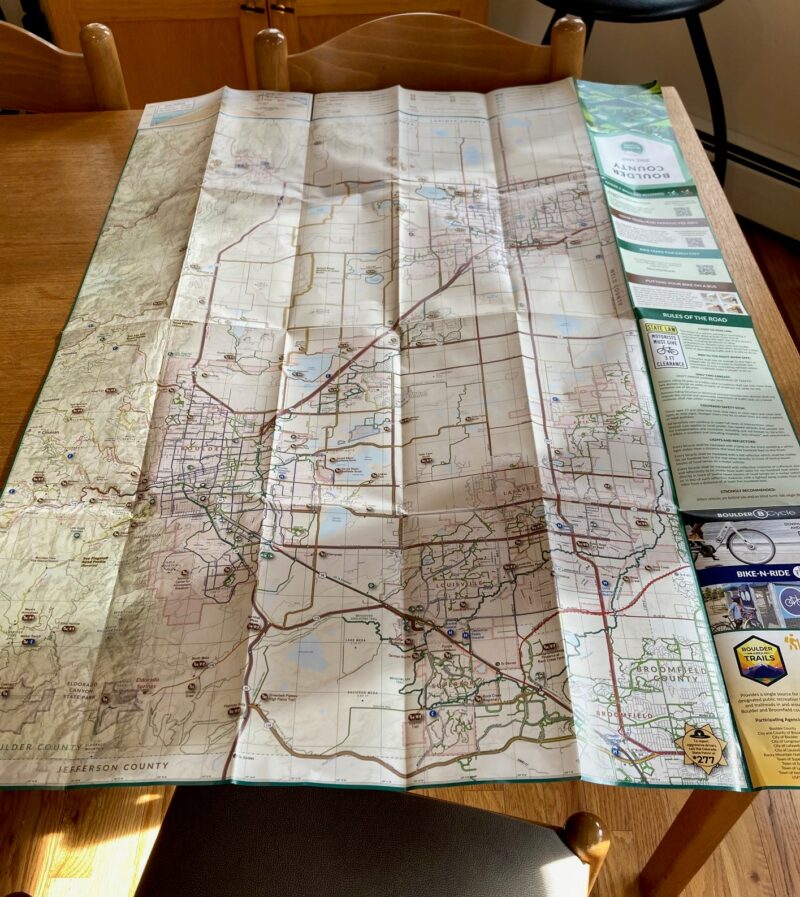 Some of you may recall that the old map showed the whole county — from Superior to the Indian Peaks — but at a small scale, with only major roads labeled. On the reverse side, it had separate, disconnected insets for Boulder, Longmont, Niwot/Gunbarrel, Erie, and SE Boulder County. Planning a route through multiple areas posed a challenge to figure out where roads and bike paths connected. Recognizing this problem, Alexandra sought a way to display more of the county at once. Her brilliant solution was to print the eastern part of the county on one side, with the western side on the reverse, allowing each to be shown continuously, at larger scale and larger paper compared with the old map. This approach still posed challenges, like deciding where to split the map between east and west. In the end, she chose to select a division that allows both to be shown at the same scale: 1" = ¾ mile.
Other features of the 2022 Boulder County Bike Map include:
Up-to-date trails and underpasses
Restroom and trailhead locations
Rules of the Road summary
Elevation profiles for a few favorite climbs: Flagstaff, Olde Stage, and Lee Hill
Links for useful information: Boulder Area Trails App, Bike-n-Ride, Boulder BCycle
Alexandra confessed that both the contractor and she underestimated how hard the process was going to be. She appreciates the help received from Venus members and other volunteers who gave feedback on the draft. Next time you see her, be sure to thank her for sticking with it. Alexandra is open to feedback as Venus members use the map and find what works and what could be improved for the next edition.