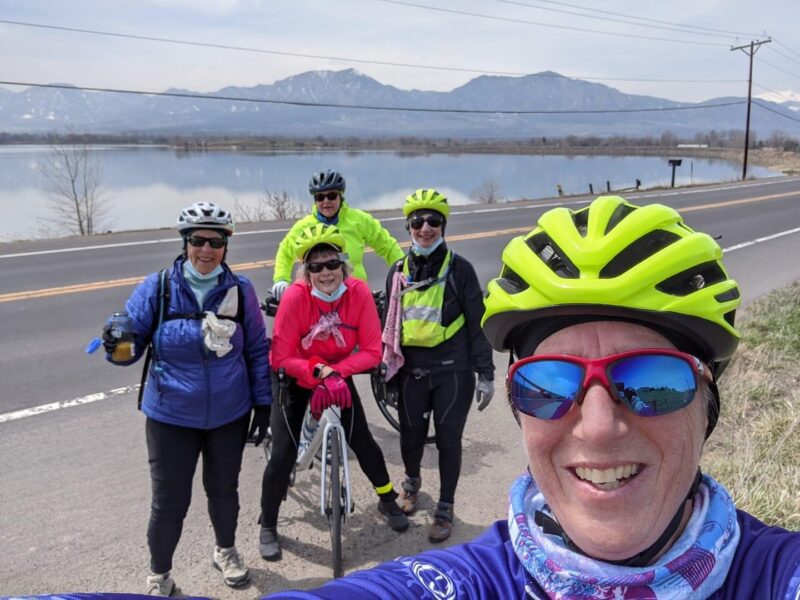 Ever look at all your riding gear and wonder what to wear when the temperature in the morning is in the 50s but could be much warmer by the end of your ride? Layering is key to staying comfortable. Consider clothes that wick moisture, insulate to keep you comfortable but not hot, and a wind barrier.
When the mercury drops below 60°F, leg warmers or capris are important for covering your knees to keep those joints lubricated and moving smoothly in cool weather. Arm warmers or a lightweight long-sleeved jersey with a vest or lightweight jacket work on top. As the temperature dips into the 40s, a good base layer and midweight jacket will keep you riding comfortably. An earband, long-fingered gloves, and wool socks will keep your ears, fingers, and toes from turning into popsicles. Shoe covers can bring joy to your toes when the temperatures dip below 50°F!
It's best to be a little chilly as you start your ride, and if you've layered correctly, you'll become comfortable as your body temperature rises with the work of cycling. As the air temperature rises or if you become overheated, shed some layers and store them in your back pockets or a saddlebag. Make note of what you wore and, if you over- or under-dressed, adjust next time!
Here's a link to the RoadBikeRider's chart for dressing comfortably at various temperatures. Everyone's body is different, and some tolerate heat or cold better than others. Use this chart as a guide, and create your own or adapt it for your body to dress comfortably for cool weather riding!
Happy riding!